The Salmon River, which runs through the Sawtooth Mountain range in central Idaho, earns the prize as one of the best white water trips I've been on to date.
We hooked up with a rafting company located in Stanley, Idaho–an outpost in the middle of no where about an hour north of Sun Valley–to ride a river nicknamed the "River of No Return."

Welcome to the bustling metropolis of Stanley. Gorgeous–and remote. Hope you didn't forget anything!You won't be getting one here!

Since it appeared that only our little group of four was scheduled to go out that day, we got to use a smaller, five-man raft compared to the larger (more stable) seven-man raft that we'd used on other trips when part of a larger group.
(Check out the big swirlie. Looks like a big toilet bowl in the middle of the river…)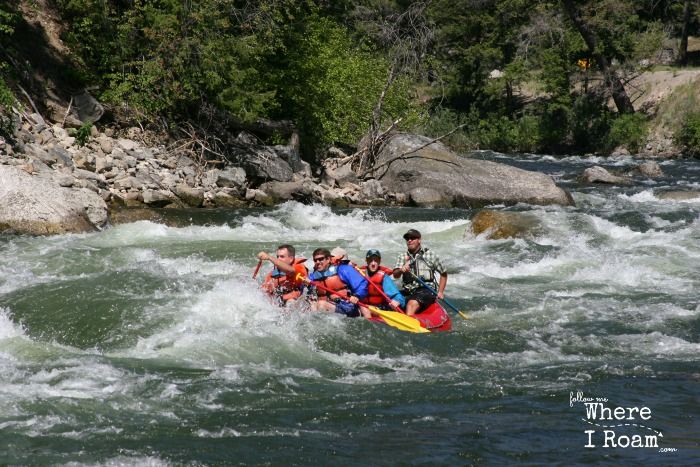 Our little raft was like driving a compact car–it was faster, lighter, and had much more "reactive" handling.

We got tossed around, bounced up and down, and thoroughly soaked. It was awesome.

I'm
still not sure how we all managed to stay in the raft throughout the entire
trip…

But, we did.

Thanks to a capable river guide.

For more information on rafting in and around the Sun Valley area, visit the Sawtooth Adventure Company website.
What has been your favorite river to raft to date? Do share!
Other adventures of possible interest:
Subscribe to Where I Roam by Email
Twitter || Facebook || Pinterest || Instagram || Portfolio