We took ourselves out on a date to Saint Augustine on Friday night.
The lighting was good, the weather was nice, and the ancient city is always beautiful.
Since we go to Saint Augustine so much, I know all these landmarks but not many of their names. We're making it a goal of ours to do more of the touristy stuff in our own area. That means taking a few of the tours, walking through a few museums. We just haven't done it…yet.
The campus of Flagler College is located in the Spanish Quarter of old Saint Augustine and many of the buildings have been around since the late 1800's. I'm not sure if this particular building has been around that long, but according to Wikipedia, some others have, so we'll go with it.

I'm particularly enamored of this porch. Those are palm tree trunks holding up that ceiling.
(If you don't believe me, take a look at the next photo. Spy those palm trees? They are similar, no?)
This is the
Ponce de Leon Hotel
on the Flagler Campus. It's now being used as a residence hall.
It's open to the public and we walked through and I got gorgeous photos of the inside.
I'll share those in another post.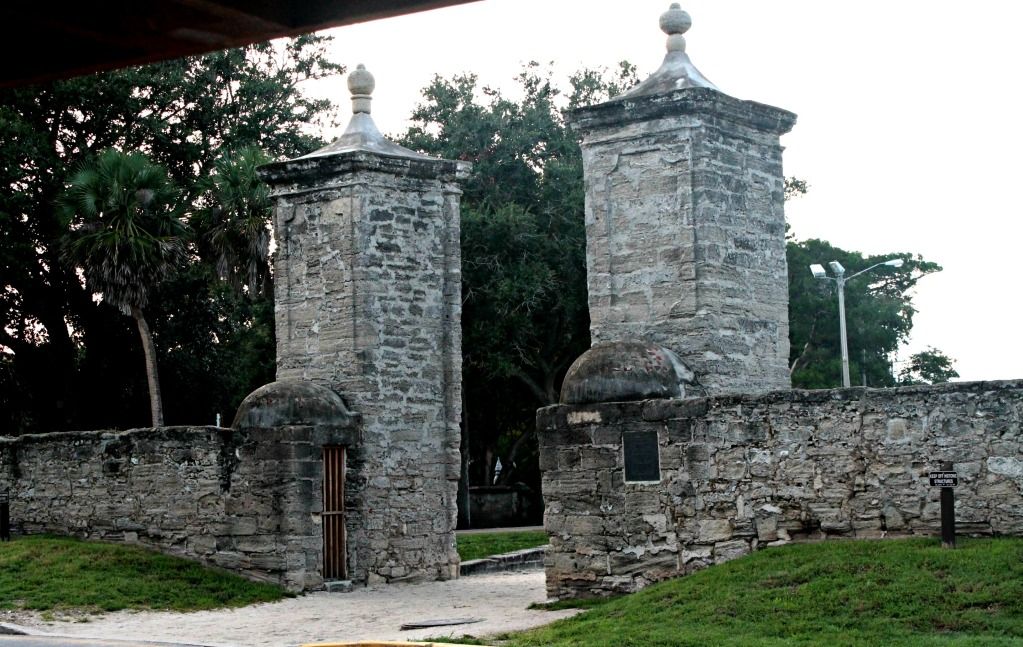 These city gates are remainders of the wall that surrounded Saint Augustine and protected it
from attack as far back as 1704.
This is the Castillo de San Marcos, which is the oldest masonry fort in the U.S. (We have toured this beast, by the way. I remember being very hot. Forts built in the 1700's lack air conditioning.
It was torture very interesting.)
I'd wager that this coffee shop hasn't been here since the 1700's, but it's still cute;
historical significance not withstanding.
The Bridge of Lions–a St. Augustine icon.
What's a restaurant on the beach without a mermaid?
This weekend has been really laid back and nice. As this post shows, we strolled around Saint Augustine on Friday night and little did we know–there was a party going on at home that we weren't invited to. One of the neighbors got a job transfer and is moving away, so a going-away party was thrown in their honor. It was really awkward because, although we're not good friends and I wouldn't have expected an invite, my next door neighbor (who is a good friend) was also excluded from the guest list. It wouldn't have been a problem except…the party was thrown by the owners of the house directly next door to her own. So, the guests were partying with her friend literally in her own back yard. The entire neighborhood was there and yet she wasn't invited.
What jerks.
My neighborhood feels like one very long, extremely bad episode of 90210. In fact, I've considered writing a book about them and calling it Ana's Burn Book. It sounds like a good plan except I'm so fed up with all of them I probably wouldn't change the names to protect the guilty and then I'd get sued for slander.
Still, it might be worth it…