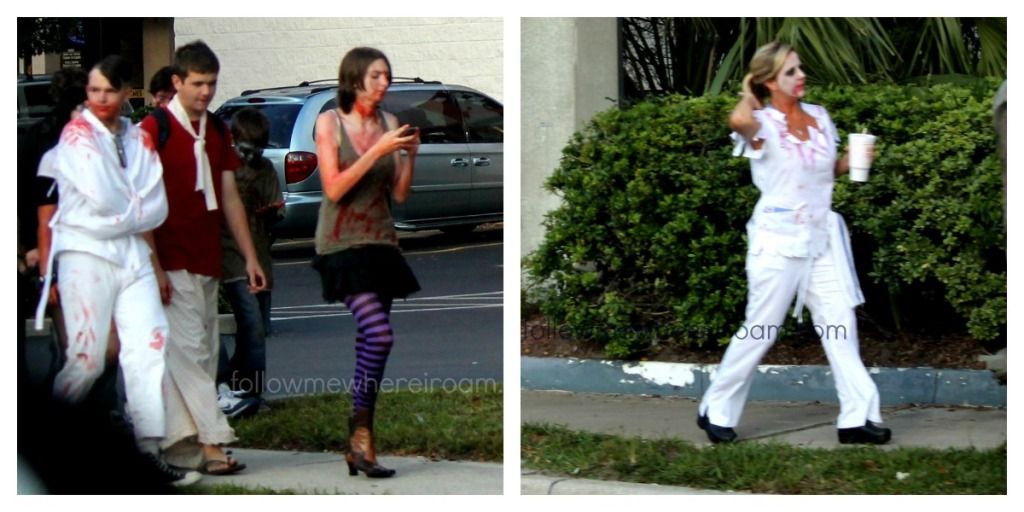 We went to Halloween Horror Nights at Universal Studios for the first time in 1991. It became sort of a tradition for us: Halloween Horror Nights one year, Howl o' Scream at Busch Gardens the next. One year we even hit both venues. Basically, you get to show up at the amusement park after hours, listen to loud dance music, get tipsy, ride roller coasters all night, and get the crap scared out of you. What's not to love?
I'm not sure what's going on in these photos, but the zombies were out for a stroll down San Jose Boulevard last week. I especially love the zombie Mom pushing the kid in a stroller. Yeah, no therapy in coming years needed there. At least when we went to party with monsters, we left our kiddo at home!
I'm pretty bummed that we don't have much of a chance to dress up for Halloween ourselves this year. We'll be taking Casey out trick or treating, and I will most likely be wearing my favorite witchy hat, but nothing as fun as you see above (like the blood smeared surgeon. Epic.)
How about you? Are you dressing up for Halloween? Where are you headed to party?